State of the Industry: Independent Retail
The recession dealt retail quite a blow. During the lean months of 2009-2011, an oft-repeated refrain at the markets, on the street and in Home Accents Today's pages was the idea that those who could survive the economic downturn would be able to survive anything. Well, it's finally safe to say the worst is behind us. And, judging from the retailers interviewed for this special report, what didn't kill them has definitely made them stronger.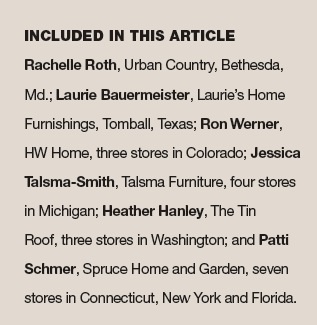 All independent retailers of furniture and/or home accents, they come from U.S. retail markets in the north, south, heartland and both coasts. Within each of those markets, four of the interviewees operate three or more store locations, and half of the group are ringing up annual sales of $10 million or more each. They have very different styles, showrooms, customers and merchandising methods, but they share similar concerns about vendors, trends, operations and the competition.
Business is good across the board, vendor online portals are appreciated, orange and blues are hot, and the in-store "experience" is more important than ever. Their resilience and street smarts are well-honed, helpful as they deal with a new set of challenges and issues - a more connected and demanding consumer, showrooming, online discounters and sales tax legislation.
In general, how's business?
Rachelle Roth:
This spring was a little soft, but we are still happy with the numbers. 2012 was a good year for us.
Ron Werner: Simply put, the consumer feels better, which translates to improved traffic and sales activity.
Jessica Talsma-Smith: Business is up dramatically. We just added another 20,000-sq.-ft. store, so now we have four locations plus an online store. Even before we opened our newest location, our business had been improving every month. The economy in this area has bounced back, there are good jobs and lots of new homes are being built. Our last Parade of Homes showcased more than 50 homes - compared to just 16 homes a few years ago.
Laurie Bauermeister: Laurie's Home Furnishings is located in the "country." We're 30 miles from Houston and 10 miles from The Woodlands. Luckily we have lots and lots of continually changing inventory driving our destination traffic. Business was up 17% last year. I am hoping for the same result this year. Except for a flat 2009, the store is performing at 14% to 23% over each prior year's numbers.
Heather Hanley: It seems to me that people are interested in making smarter choices. They're looking for quality to last vs. something to get them by. They are also looking for expert advice and opinions, which has worked well for my stores because all my sales staff are interior designers. Our business has certainly seen the ups and downs, but through the recession we learned how to operate more efficiently and have come out stronger. Our number of sales transactions and average sale are up.
What home accent category(s) seem to be selling more or are more popular with your customers?
Rachelle Roth: It's funny you mentioned botanicals because we don't really consider that a category of accessories for sale, but we recently invested in a fairly large shipment of cut stems, grasses, hydrangeas and a few trees; investment in our display really does help sell the vases and tabletop accessories. It's important to remember that display is the advantage that we have as a brick-and-mortar store; consumers impulse-buy gifts and accessories when our store
appeals to their visual senses. Besides that, area rugs are selling because we offer inexpensive trendy offerings that coordinate with our upholstery settings on the floor. Lighting is always a good category because it's so hard to judge scale and color when shopping online and the brands are less recognizable to the average consumer.
Ron Werner: We see solid consumer strength across the board. People are thinking of home and refreshing. The small items for quick fluff-ups make it easy. In that sense, we see activity in pillows, lighting, rugs and faux botanicals.
Laurie Bauermeister:This season we have sold a large amount of permanent botanicals for tabletop and bookshelf fillers. Succulents and orchids seem to be the most popular. Also hot are wall décor and mirrors. Lighting is a category where we are always looking for a fresh or current look. Colored ceramic bases seem to be selling well.
Heather Hanley: We seem to be selling more lighting - lamps and ceiling fixtures, high-end lighting. Our customers don't seem to be going towards the less-expensive items we offer. Botanicals have dropped off quite a bit. We're selling a lot of pillows, as well as area rugs where again, they're gravitating towards the bigger ticket items and making more of an investment in a piece.
What styles and colors are hot right now?
Rachelle Roth:Greige with pops of color - teals, oranges and hot pinks. We saw a lot of kelly green at market and hope to see that translate to interiors.
Jessica Talsma-Smith:Tangerine, turquoises and soft blues. We have a lot of homes near water, so light, airy and fresh is a common theme.
Laurie Bauermeister: Best colors for us are still French neutrals. Those with a more developed color palette are buying turquoise and orange tones.
Patti Schmer: Accent colors that are hot right now are blues and greens. We have done very well with a product called Sitlonger - they make a yoga cushion, and ottomans for casual seating, in wonderful fabrics with beautiful textures and colors.
Heather Hanley:In Spokane, people are asking for the "tangerine tango" colors, grays, and they're moving away from basic browns. We're showing on-trend styles like lattice prints, ikat and chevrons, and some of our customers are gravitating towards them.
Are rugs a key product category for you? If so, how are they displayed in the store?
Rachelle Roth:They are not "key" as in we don't have a rug rack or very much inventory, but we have 2x3 samples and do a nice special order business with Surya, Dash and Albert, Company C and Madeline Weinrib. A new concept that we have implemented seems to be working: Putting several rolled up 5x8 rugs in vintage wine barrels next to each sofa where they work color and style-wise.
Ron Werner:Rugs are a key business category. We use them in our vignettes to complement the color and texture stories, our rugs walls are tiled with small samples, and we make a point to have some rolled for cash and carry goods.
Jessica Talsma-Smith:Rugs are about 8% to 10% of our business. We have them in all of our vignettes and display samples on a rack.
Laurie Bauermeister:We are extremely busy with design work and literally have dozens of jobs working. Most houses need a minimum of five rugs, and we're finding it challenging - sampling and coordinating rugs for each targeted area. Our store has a large hanging rack of rugs for immediate purchase and sample racks from various vendors for customer check out. We also have sample rings of the most popular styles, colors and textures for the design team to take on calls and many vendor catalogs in our research room for review. I wish the rug vendors would put together color stories like the bedding companies do - it would make things easier.
Heather Hanley: Rugs are a huge category for us. We display them any way we can think of. Many years ago we began putting them on our walls as a way to avoid painting them, so now every vignette has a rug (or two or three) on the wall and floor as well as some rolled and tied up with rope. It's a big add-on for our designers so we like to layer them in every vignette. We also have a huge rug rack (two corner racks together), offer five designer boutique programs, and have a "rug corner" set up with tables, chairs and rug catalogs. Our designer samples are sorted by style and texture instead of by vendor. This seems to work for our designers and our customers.
What is the biggest challenge affecting the success of your business?
Rachelle Roth: The internet, period. Manufacturers who sell online are a big problem for us, because our store becomes a showroom where consumers touch and feel products then order online at 10 p.m. when they have down time. We almost cheered for the Australian store that's charging a $5 "just looking" fee that's credited towards any purchases. Sadly it's almost come to that for the survival of the brick-and-mortar store.
Ron Werner:Time. Each aspect we need to focus on takes time. We need to develop and manage our team. We need to inspire and motivate our team. And we need to always be focused on customer care and our brand.
Laurie Bauermeister: Believe it or not, my biggest challenge is finding new goods. I buy at all price levels and have found that companies are not producing enough new product yearly and often times do not keep enough merchandise in their U.S. warehouses for immediate shipping.
Patti Schmer: The biggest challenge is to get the customer into the store to realize our price points are affordable and to see our diversity of products. We carry furniture, accessories, jewelry and small gift items as well as a small line of clothing.
Heather Hanley: When you look at our online reviews the only negative comments are from customers whose products were delayed by the manufacturer and/or came in damaged. I wish that manufacturers would understand how demanding today's customer is - they live in a day and age of instant gratification and incredible technology. The home furnishings industry has been slow to adapt to this. Customers don't understand eight- week lead times that can turn into 12-week lead times. As the retailer, you take the brunt of their disappointment. I have chosen to work with vendors who have great online dealer portals, because it just makes life easier when you can set proper expectations with your clients. There's also such discrepancy in manufacturing and quality levels - customers don't understand why it takes eight weeks to produce a sofa to their specifications in North Carolina, when they could buy one at the grocery store along with their milk and eggs. Some manufacturers are trying to turn furniture and accessories into commodities, and some of us are still trying to make it an investment in home, lifestyle and family.
Is there a time of year when sales are better?
Rachelle Roth: Fourth quarter is absolutely our busiest time of year, mainly due to our anniversary special order furniture sale. In 2012, we did 30% of our year's total business during those three months. Christmas gifts, although we sell and wrap plenty, don't add up to much in December - we need furniture sales to impact our bottom line. Increasingly, long lead times from manufacturers means those orders need to be placed in October for clients to enjoy their furniture for the holidays. August and June are usually our weakest months.
Laurie Bauermeister: Sales are generally better in fourth quarter. August 5 kicks off our fall selling season. Thirty-three percent of the entire year's business is done from September to December.
Patti Schmer: The time of year that our sales are the best is December. We do an incredible holiday display and we are a great gift source in many different price points.
Heather Hanley: We do well in the spring and the fall. I'd say 30% of our sales are fourth quarter. Our months are pretty even.
Do you sell online and, if so, about what percentage of your sales occur there?
Rachelle Roth: No, we have tried and it was like nailing Jell-O to a tree because we don't carry back stock inventory. But we'll never say never.
Jessica Talsma-Smith:We do have a small online presence. We hope to expand it in the future, but right now it is a small percent of our business.
Laurie Bauermeister: We do not sell online, although we do have a website. The website directs the customer to phone our trained in-house designer. I am actively working on updating our website and moving to some e-commerce pages that expire seasonally.
Heather Hanley:We do not sell online, but would like to soon - only our best products and proven winners, not flash and dash stuff.
How much impact do you think the passage of an online sales tax collection bill would have on brick-and-mortar retailers?
Rachelle Roth: Absolutely tremendous! It would level the playing field. This is so long overdue.
Ron Werner: This fair tax will only help brick and- mortar boutiques. Purchases made from out of state are currently taxable, it is just that no consumer files and pays the tax. The level playing field is a big help for us.
Laurie Bauermeister: I fully support state sales taxing online and am actively pressuring my local congressman to that effect. Additionally I am discussing controlling online distribution with all of my major furniture lines.
Heather Hanley: I think it would be huge! My state has an 8.7% sales tax. Passing an online sales tax bill will help level that playing field. Essentially it's a built-in 10% discount. I have never understood why they don't tax online sales. Those businesses should be participating in our communities (by paying taxes) the same as all other businesses.
If you could suggest one thing to your vendors that would make your life easier, what would it be?
Rachelle Roth:Set a minimum retail price and hold retailers accountable to it. Take a lesson from Peacock Alley - if you want to sell direct online, fine, just have a slightly higher price in your online store.
Ron Werner:Commit capital to inventory to reduce lead times, answer our requests faster and provide good photography for our tear sheets.
Jessica Talsma-Smith: Online ordering, easy returns and quick credits on damages.
Laurie Bauermeister:My beef with vendors generally is not shipping quickly enough and not keeping up with the accompanying paperwork. We would like to receive invoices and packing lists with the goods. We often have to hound our suppliers for this information.
Heather Hanley: Dealer portals - we need as much information as possible for our customers and clients. These portals would include great marketing imagery and point-of-purchase displays. Especially for higher-end accents and furnishings, you (as the vendor) need to help me (as the retailer) educate OUR consumer on what makes your products special and worthy of their hard-earned money.
Have you made any changes recently that have helped boost sales?
Rachelle Roth:Yes. We hired a PR consultant and we invested in a full-time salaried employee to handle social media, marketing and buying efforts. One of her goals is to make sure we capitalize on aligning our in-store promotions with those offered by our manufacturers. We have never been good at planning ahead and unifying our calendar in time to make those events work for us.
Ron Werner: We just keep focused and work hard on our mission.
Laurie Bauermeister: I have invested heavily in social media. I have a full-time photographer, blogminder and website maintenance person. These things are key to promoting in-store events.
Heather Hanley:We dropped low-end lines. And if the product can't get to my door in one piece, we drop that line as well. We focus on vendors that are interested in a relationship, not just selling us "stuff." I want to see the rep in my store, I want help with damages and issues, I want to be important to your line. We also purchased new software, which has helped identify our best-sellers and the lines we should make our top priorities.
Has your average customer changed much since you've been in business?
Rachelle Roth: We have such a diverse customer base, and it's certainly not typical in any way. People who gravitate to our store are looking for style and interior design services and it has been that way since day one. The customers' product knowledge has changed as they are savvier and more exposed to good design via the internet. They require answers to a lot more questions in advance of closing a sale.
Ron Werner: The difference is that they are either more knowledgeable, or they think they are more knowledgeable. At the end of the day they are the same. They need direction, validation and great service.
Jessica Talsma-Smith: Our average customer is busy. Their time is valuable. Most of them will preshop us online and know what they want when they walk in the door. It is our job to figure that out quickly and show them what they want to see.
Laurie Bauermeister:My customer tends to be increasingly affluent, younger and very well-educated on design.
Patti Schmer: Our customer has become more sophisticated. We are educating our consumer and they're purchasing slightly higher priced items.
Heather Hanley:Our customer focus 10 years ago was a younger clientele - the 35-55 demographic - but it's grown up as they've grown up. We're seeing an older clientele, the 55+ demographic that's downsizing and wanting something new and fresh.
Who's your competition, and how do you feel about your vendors who sell to online flash sale sites and/or online discounters?
Rachelle Roth:The flash sales like One Kings Lane are not as much of a threat because the items they offer are specific and limited. However, the online discounters are a major problem, so we choose to work with suppliers who do not sell to those sites. Big box stores are also a threat because they have the space to show so much more product than we can. Typically the expertise of our designers can overcome that disadvantage, but if the big box store has a sale, the customer loyalty runs thin.
Ron Werner: Competition is everywhere - from the store across town, to online and travel. We can't worry about that. We need to worry about delivering a great customer experience, amazing service and fair pricing.
Jessica Talsma-Smith: Our competition is everywhere. I think we need to set ourselves apart from the "biggest sale of the year" guys and the guys selling the sale. Our customers are looking for quality and value so we give them the best quality at the best price and we stand behind our products.
Laurie Bauermeister: My biggest competition comes from other similar independents. But since we are a destination store with unusual goods imported direct from the source, we often times don't have much competition. I am working harder every day to handle only proprietary items that are manufactured specifically to my concept ideas. Online retailers are an issue. I believe only partner stores with stick-and-stone back-up businesses should be allowed to have a website. I do not have a problem with the flash site concept as there are times when importers/manufacturers need to clear out-of-season or old inventory. But why would they have flash sales of current goods?
Heather Hanley:Online sales can be frustrating. We're trying to create a boutique shopping experience with beautiful environments and then our customers see the same products on a deeply discounted flash sale and it devalues our products. I'm shocked at some of the high-end vendors that sell to those flash sale sites. Don't get me wrong, the idea is ingenious, but the people buying those pieces are not making investments, they're making commodity purchases. I think when furnishings and home accents become commodities you've done a disservice to our industry. Buying online with free shipping and no sales tax is a killer for us - we have to be creative and provide customers with an experience, because that's the one thing online sites cannot provide.
Is showrooming a problem for you? Are you doing anything to make it more difficult for customers to do this?
Rachelle Roth: Yes, it's probably a larger problem then we realize and I don't think we can control it without being rude. You can only dodge the question "who makes this" for so long tactfully.
Ron Werner:This is an issue. If we see it occur too much with a given line we are forced to drop the vendor as they have demonstrated that a clean distribution channel is not important to them.
Jessica Talsma-Smith:Showrooming used to be a bigger problem than it is now for us. We rarely will have the customer find the same product for less somewhere else. If it does become a problem, we typically will drop that company.
Laurie Bauermeister:Yes we see a lot of people taking pictures of goods and our tags. I am sure they are shopping us. But I am not so sure these photos turn into a sell for some other business. We import so much stuff direct, even online retailers can't compete on price or availability.
Heather Hanley: We do not show model numbers on tags of our major items. Sometimes you're dealing with a customer who just wants it as cheap as possible. We'll never win with that guy, so why bother trying? When it comes in late, or has a problem, he'll be the first to complain and expect that service factor to kick in and for us to go above and beyond. So let them buy it online and deal with the consequences. We have to focus on creating the experience of shopping - great products, incredible displays, wonderful sales staff. That's what a brick-and-mortar store can excel at, and that's what customers want! People are starved for time - make shopping easy and fun and informative and they will reward you with their business.
What will you be shopping for at the summer and fall markets?
Rachelle Roth:We always go with an open mind and few preconceived notions. We are just looking for what's new and exciting, and Made in America always helps!
Jessica Talsma-Smith:Quality, unique pieces. We need large statement pieces that you can't find everywhere. We will also be looking for bright colors like tangerine, poppy red and emerald. Unique art is a focus too. We've been working with Leftbank Art and have really liked the quality.
Laurie Bauermeister:My buyers will be looking in all categories as my part of Texas seems to be very busy and we expect even more traffic as the new Exxon Mobil campus, Baker Hughes training facility and other oil companies relocate employees to my area. Several thousand new homes have been built in the last two years within five miles of my location. Specifically, we will look for new mirrors, lamps, pillows, wall art and seasonal items for next January and the spring selling season.
Heather Hanley:Interesting textures for people's homes, like fur, reclaimed woods, woven textures. And warm colors for our long winter months. It really helps to liven up a space that's surrounded by cold and snow with some fun, bright colors.
Galleries of State of the Industry: Independent Retail